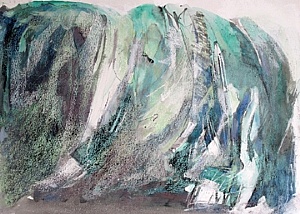 "The intuitive mind is a sacred gift and the rational mind is a faithful servant. We have created a society that honors the servant and has forgotten the gift."
Albert Einstein
Experiential drawing and painting workshop:
The Primacy of Perception

Description: In this workshop, the focus is on process, not product. We will move quickly through a series of expressive exercises that build from line through shape, tone, weight and contrast. We'll play with edges and experiment with movement. Approaching color, we'll explore temperature, saturation and "push-pull". Each element will build on the previous in progressively longer studies. We'll work from slides, pictures, our imagination and our neighbors drawing! We'll approach these fundamentals from a purely visual/experiential place as opposed to a more studious perspective. The emphasis is on perception, expressiveness and responding to what we see in the moment. The workshop will help bring structure to expressive painters and spontaneity to more intentional painters. Each workshop is customized to the needs of the group. We will work both with the abstract/non-objective modality and with landscape. Our materials will be paper, charcoal, ink, gesso and pastel.
Introduction: There are two essential modes of attention in the creative process: the analytical, goal oriented, problem solving mode, and the intuitive, spontaneous mode. Some of us prefer to start a work deliberately, knowing what we want to do and how we want to go about it using our fund of skills, knowledge and ideas. Others like to begin with no agenda at all and see what emerges when we stay receptive and available to whatever spontaneously appears. Regardless of how we begin, sometimes we paint the painting and sometimes the painting paints itself. We weave back and forth between these two modes of attention, at times evaluating and at times letting go. It's pretty easy to describe what's going on in our deliberate, analytical mode - what elements and theories we're considering. It's less easy to describe what's going on when our intuitive side takes over. That is a mysterious place we slip in and out of often not remembering what we did after re-surfacing. Both modes are important and both require practice.

In this workshop, we'll focus on practicing our intuitive mode of attention. Which brings the question: how do we intentionally practice something that by nature is beyond our conscious control? I decided I wanted to see what would happen if I attempted to work with no agenda - no goal in mind. Over time I identified the following qualities of this mode of attention. 1) It prioritizes perception over conception. That is, our focus is out on our paper or canvas watching with receptive, expectant attention and is not in our minds conceiving our next move. 2) In this mode we are completely in the present moment without concern for what has happened or will happen. Whatever intent we began with or goal we had in mind is temporarily irrevalent. And, 3) in this mode we are very much in relationship with – in our case – our paper or canvas. We are in a form of reciprocal communication rather than the master. And, 4) our focus is on the whole, the gestault, and not on steps or parts.
Workshops are by sponsorship or invitation. I work with artists of all levels, and with non-artists wishing to explore a different mode of expression. My workshops developed through a combination of my own experiences experimenting with drawing and painting, and my work as a psychotherapist which exposed me to fascinating new information about how our brain functions. All workshops are tailored to fit the unique needs of the group. Should you wish to sponsor a workshop or be placed on a mailing list for a workshop in your area, please contact me through this website.
To read more about our brain and the creative process....look below the Materials List
Materials List:

Our primary materials will be charcoal and white pastel, and ink and gesso. You'll want to work as large as possible so you'll want a sturdy board and easel.

Standing easel (large enough for an 18 x 24 board)
Board (to tape paper to)
Tape
Bond paper (inexpensive, for quick studies…or newsprint) At least 18 x 24!
Heavier Paper (for longer studies – that will take ink, pastel and gesso. Like BFK Rives, 140 lb. watercolor paper, illustration board or sanded paper - whatever you prefer. At least 6)
Vine charcoal (assortment of other charcoals you have on hand )
Compressed charcoal (or black pastel….something really dark!)
White pastel
Kneaded eraser
Rags and/or soft paper towels
Sumi Ink – Black (and brown or other color – optional)
2 jars for water
2 tins (like tuna or similar)
Gesso (or other white acrylic paint)
Brushes: at least two inexpensive 1" brushes – one for ink and one for gesso
And some smaller brushes for different marks with the ink.)
Pastels: a small collection will do. You'll need some greys and some brights of each hue. Bring as many as you want. (If you don't want to work in pastel – contact me to discuss a different medium.)
Small spray bottle for water
Small hair dryer (op)
Baby wipes!
As it turns out..........the two modes of attention described above, directly refer to the two hemispheres of our brain! Read on to learn more...............
"As we practice and allow the unplanned, the unstructured and intuitive, we are strengthening the right side of our brains and concurrently our ability to perceive the whole, be in the moment, empathize, connect to our body's wisdom and discover the nuances of what is meaningful to us." Iain McGilchrist


Our Brains' Competing Hemispheres
This workshop is all about the dance of our hemispheres when creating art. Many of us have experienced an internal struggle while drawing and painting; between being intentional and planning, or, letting go and surrendering to the page. Recent research on how our brain functions has provided us with very revealing and useful information about this struggle.

Early studies of patients with damage to one brain hemisphere or the other, revealed what appeared to be a preference for language in the left hemisphere and for images in the right. Instructions to "draw on the right side of the brain" teach ways to turn off our left brain in order to see things better, to see things as they really appear rather than as the labels we've given them. Recent neuroimaging studies reveal a much more complex interaction between the hemispheres. The job of the left hemisphere (simplistically) is to focus, identify and use information it already has. The job of the right is to maintain an alert, diffuse attention specifically prepared to notice anything new. Both hemispheres have language and imagery capabilities but use them in different ways for different reasons. The function of their split is not recognizing and retaining different kinds of information but rather, attending to the world in different ways. Their ability to work independently has been critical to our survival and development. Studies reveal for example, that various birds and mammals use one eye (and hemisphere) to keep an eye out for predators or anything unusual, while the other eye is simultaneously focused on feeding.
Our two hemispheres function independently using types of attention that contradict each other, but they also influence each other. Too much diffuse information from the right would lead to nothing but confusion without the left hemisphere's inhibiting the flow, labeling and organizing it. But the left cannot on its own, experience the world. It can only exist within the confines of what it already knows. As Iain McGilchrist (The Master and his Emissary - the Divided Brain and the Making of the Western World) put it, the job of the right (hemisphere) is to be "present" while the job of the left is to "re-present". Because of this, the left sees in parts and from them creates a whole while the right sees the gestalt, the whole. Both hemispheres use language but in different ways. For example, the ability to understand a joke or the meaning of a metaphor is a right hemisphere function.

The philosopher and evolutionary psychologist, Ken Wilber, quips that the "Fall of man" was when we started giving names to things. With each name/label came a boundary that wasn't there before. To label something is to separate it from everything else. This labeling gave us an illusion of separateness and the delusion that we could reduce the world to its parts – identify and measure to the last building block. Our love affair with our logical left brains was also influenced by a science that thought it could find all the "building blocks" of the universe. Western science used to think it could label and measure everything and has been in shock since discovering the "uncertainty principle". When we finally found the smallest building block, the smallest particle…it wasn't there! Or it was there, but it was a wave to one observer and a point to another. And it was in one location to one and in another to another. Rather than a universe made of identifiable building blocks, we ended up with a universe in flux, inseparable and pulsing with opposing forces: exciting and inhibiting, asserting and withdrawing, rising and falling, pushing and pulling, breathing in and out.

What does all this have to do with making art?! In art, like in many things in recent years, we have emphasized, arguably, the talents of our left brains. We are encouraged to learn a vast array of skills and apply them in calculatedly novel ways. We are asked to write statements about our work and we better "have something to say"! It has been said that contemporary art suffers from "excessive self consciousness"…leading artists to deliberately invent themselves…rather than intuitively discover (themselves)." But real newness comes intuitively from our imagination…from our right brains. Our left brains are incapable of experiencing anything truly new….only of being intentionally, deliberately novel. Creating art involves a synthesis of the planned and unplanned, the structured and unstructured, the logical and intuitive. Most of us have experienced that inner conflict of when to think and when to let go and surrender to what wants to come.

We spend an inordinate amount of time in our left brains now simply because we already "know" so much. Most of what we encounter every day has already been discovered. Our right brains try to stay alert for the unknown but must become listless in the waiting. Our left brains end up in charge – moving us from one known to the next. So little comes along that is truly new that we're out of practice being in our right brain, and that's not a good thing because our brains are plastic – always developing – and the things that we practice translate directly into new, stronger neural clusters.

Neuroimaging has also discovered that our brains – as in our neural network – aren't confined to our skulls, but there are long neural fibers that connect behind our heart and behind our gut. These information pathways connect to our right hemisphere. We have also discovered "mirror neurons" which are believed to be the etiology of empathy. These neurons react in a very special, synchronistic way with the "Other" – whatever that is. Our right hemisphere sees itself in "profound relation with the world it experiences." (McGilchrist) Our left hemisphere "attends to a virtual world of its own creation which is self determined and disconnected from the Other" – whether that be a person, landscape, model, canvas, or whatever.

Art and life require both sides of our brain to be working in harmony and balance, integrated and each fully enlivened. It makes sense that our right brain with its emphasis on the new, has been lulled to slumber by the lack of new experiences. Our longing for and idealizing of the innocence of the child or the "primitive" speaks to this loss. But it isn't useful to throw away the collected knowledge and skill of our left brain either. Synthesis is the operative word. How to achieve that with the divergent agendas of our hemispheres is the challenge!
Acknowledgment: Special thanks to Iain McGilchrist and his wonderfully illuminating book: The Master and his Emissary: The Divided Brain and the Making of the Western World, Yale University Press, New Haven and London, 2009. This book, in no small way changed my life and may just change the world!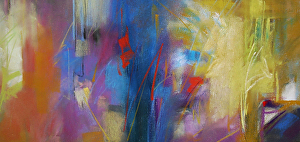 "The Way Between"