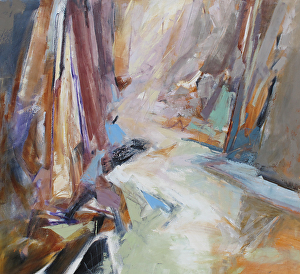 Wet Paint
This series was begun in January of 2013. Inspired by what I'd learned about how the hemispheres of our brain work, I wanted to continue to pursue this experiment of what will happen if I begin with no agenda at all. Like some of my pastel series, but the paintings in this series are all oil. I start just standing before the blank, white canvas. Sometimes I get the urge to make a certain mark. Other times I end up picking up a piece of vine charcoal and slowly begin to apply marks - responding to each until a pattern begins to present itself. Areas of dark and light usually follow, either in paint or charcoal. As the image emerges, colors present themselves and space and light declare themselves. I love all the different ways paint works from thick to thin, scumbled and glazed and use all manner of tools as well as oil bar. It doesn't surprize me that "landscapes" appear as that is where most of my time has been spent - painting or otherwise. I'm enjoying the experience of these landscapes surfacing on their own. They are all titled after the fact.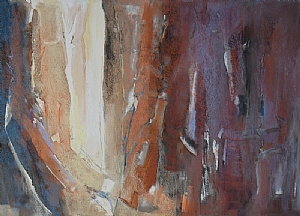 Canyons
This series arrived like the Portals...unbidden. I started with pen and ink responding to each line. Then black and brown sumi ink were applied randomly and allowed to flow and run. At some point, the canyon started to appear and I went with it. After the first canyon, the rest followed of their own accord. In later pieces I also used gesso and had fun playing with texture.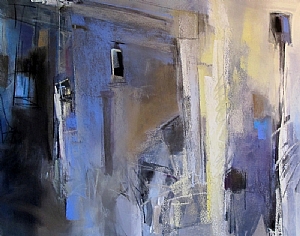 Portals
This series arrived without notice and has carried on a life of its own. These are medium size, pastel paintings on paper. They are begun with a random ink drawing similar to how I begin my non-objective pastels. One day, windows, doors and stairways began to emerge out of the abstract space and I let these develop on their own.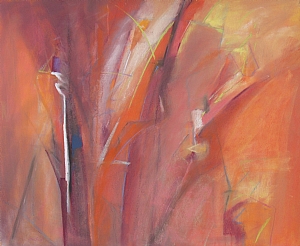 Non-Objective Pastels

Most of my work has a reference of some kind from a very present reference in the landscape, to an obscure memory of something tucked in a recess of my mind. The reference may be very vague but it is still something to check in with during those moments of: what now? With these non-objective works, that comfort is gone. These are about there being no reference. Their challenge is to be "fully in the moment" with only what is on the paper before me to guide me. They are a "meditation" in that they are about controlling my focus and not getting derailed by all the internal dialogue (and as a psychotherapist, I have a lot of it!) That said, there is no such thing as truly non-objective and when I look at these I see light, shadow and space... but from a very different universe!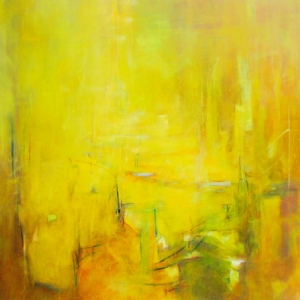 Abstract Oil Paintings

These are large, traditionally painted oils (fat over lean) on gallery wrapped canvases. They are painted with many layers of glazing up to opaque passages on the surface. I usually use photographs as reference for these paintings however, the photos are not supplying pictorial elements as much as serving as reminders of a particular time, place or experience. In the early stages of these paintings I'm a little enslaved by the photo references but at some point I gather up steam and break away. Usually when this happens I feel like I've abandoned my original idea. But what I've discovered is that when I allow the break-away to happen and paint freely, in the end, the painting does reflect my idea in surprising ways and certainly more than if I'd stayed with the photo reference.
Great Basin Pastels

The landscapes in this collection are painted in the studio using field paintings and photographs for initial reference. I start by focusing on composition and value patterns and wait for that moment when the painting declares itself. At that moment, the mood and direction of the light will become clear and may be quite different from the original reference. This is the exciting part: when the painting takes over and tells its story.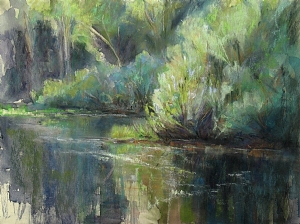 Studies

I have always spent a lot of time in the back-country and on a nice day, find it nearly impossible to be in the studio. Where I live, I have the Cascade mountains minutes away to my west, and the desert and coulees of the Columbia Basin a short drive east. I take whatever medium is in favor at the time: oil, pastel or watercolor and head out with my faithful painting companion, Lucy (my old black lab.) My husband and I also camp so I'm often out painting when the light is at its best. However, for some strange reason, I seem to get my best paintings when the conditions are at their worst. This painting, Grayland Pond, was painted out on the Washington coast while a "pineapple express" was unloading all around me and all I had for protection was a hand held pack umbrella I strapped to my french easel with an ace bandage!